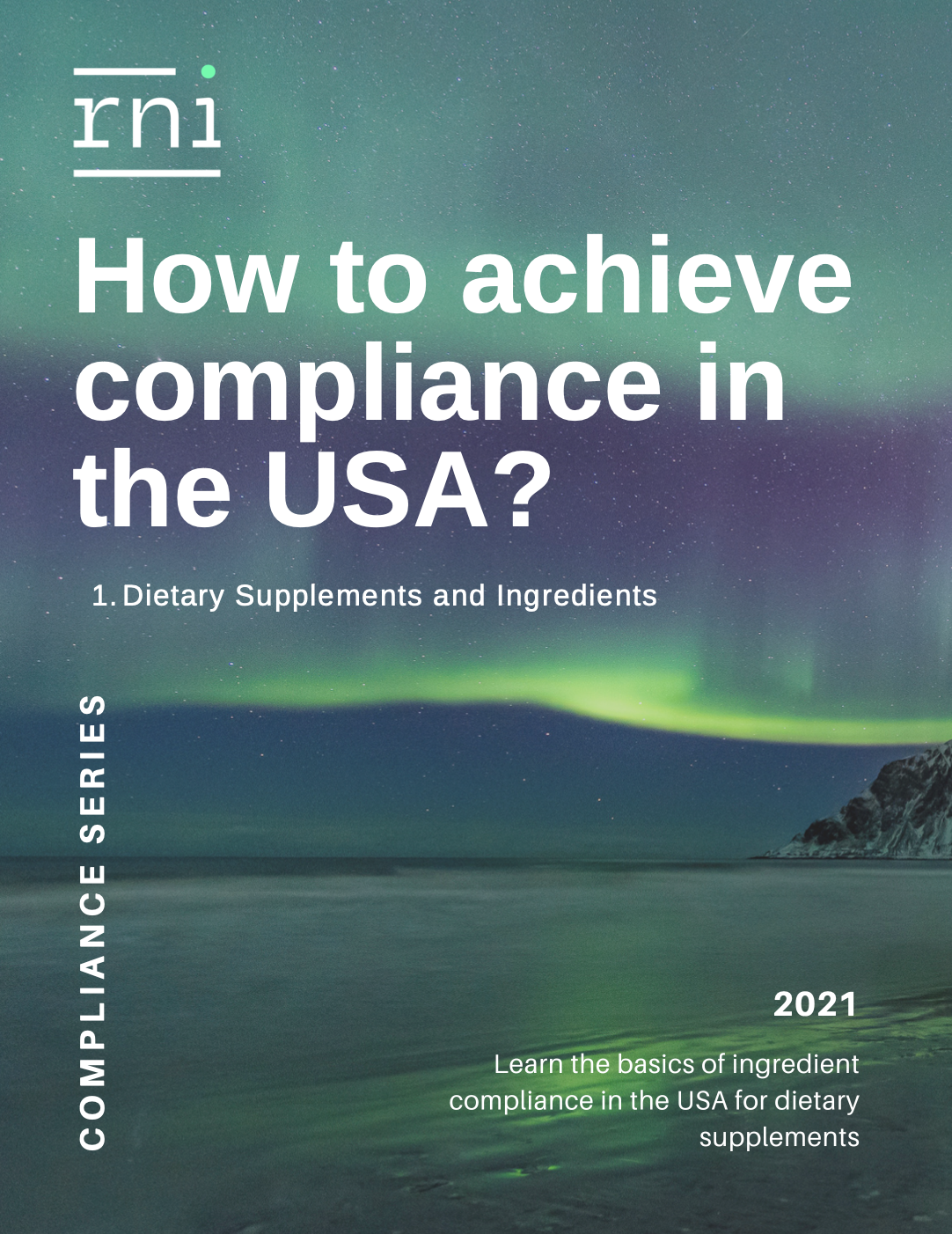 Claims on your supplements…
What is a structure function claim?
Structure Function Claims (SFC) are an important way to communicate with consumers and convey the efficacy and physiological objectives of a dietary supplement. First of all, let's define a SFC: it describes the role of a nutrient of dietary ingredient in a dietary supplement intended to affect the structure or function in humans. When it comes to SFC, the regulations can be nuanced, and even a single word can make the difference between a disease claim and a SFC. Therefore, it is vitally important to have an experienced review of both the SFC language and the substantiation.
Regulated under 21 CFR §101.93, a SFC in dietary supplements can also characterize the documented mechanism by which a dietary ingredient acts to maintain such structure or function. SFCs cover well- being type claims (e.g., relaxation) and claims related to life stages (e.g., menopausal symptom relief). SFCs are critical in defining the objective of the product and its impact on the human body. It is important to know that the seller of the finished product is liable for compliance of the SFCs made on the product.
Example of Structure Function Claims:
"Fiber maintains bowel regularity."

"Antioxidants maintain cell integrity."

"Calcium builds strong bones."
What are the conditions / limitations for use?
Use of SFCs are bound by conditions and limitations under FDA and FTC authority. SFCs made for dietary supplements must be truthful and not misleading. As such, conditions and limitations apply for the use of SFCs:
The SFC cannot be a disease claim. A dietary supplement making a disease claim will be viewed as a drug based on the intended use, regardless of other product labeling, and therefore will be subject to drug regulations. This includes use of images and vignettes that would be associated with diseases.
The SFC must be substantiated (see below). All SFCs must be substantiated prior to marketing a dietary supplement, and must be on file and available upon FDA request.
The SFC must be notified to the FDA, within 30 days of first marketing the product on the market.
The SFC must be accompanied by the mandatory disclaimer statement. This applies to the label and labeling, which includes website copy / internet sales page.
"A 'disease' is damage to an organ, part, structure, or system of the body such that it does not function properly (e.g., cardiovascular disease), or a state of health leading to such dysfunctioning (e.g., hypertension); except that diseases resulting from essential nutrient deficiencies (e.g., scurvy, pellagra) are not included in this definition."
Definition of a "disease" in relation with dietary supplements, Code of Federal Regulations, 21 CFR 101.93.
The necessity of substantiating
What considerations are at stake?
The FDA requires that a manufacturer of a dietary supplement making a SFC have substantiation that the claim is truthful and not misleading. Other agencies and groups also play a role in verifying/ enforcing the truthful and not misleading standard, these may include the FTC, state attorney generals, and the National Advertising Division. Substantiating SFCs mentioned for dietary supplements is crucial to ensure compliance of your products.
While there is no exact checklist of substantiation required by the FDA and FTC, the agencies have provided guidance and examples of substantiation standards. They generally consider that substantiation should rely on "tests, analyses, research, studies, or other evidence based on the expertise of professionals in the relevant area, that has been conducted and evaluated in an objective manner by persons qualified to do so, using procedures generally accepted in the profession to yield accurate and reliable results".
The FDA recommends that manufacturer of dietary supplements consider the following issues in their assessments of SFCs: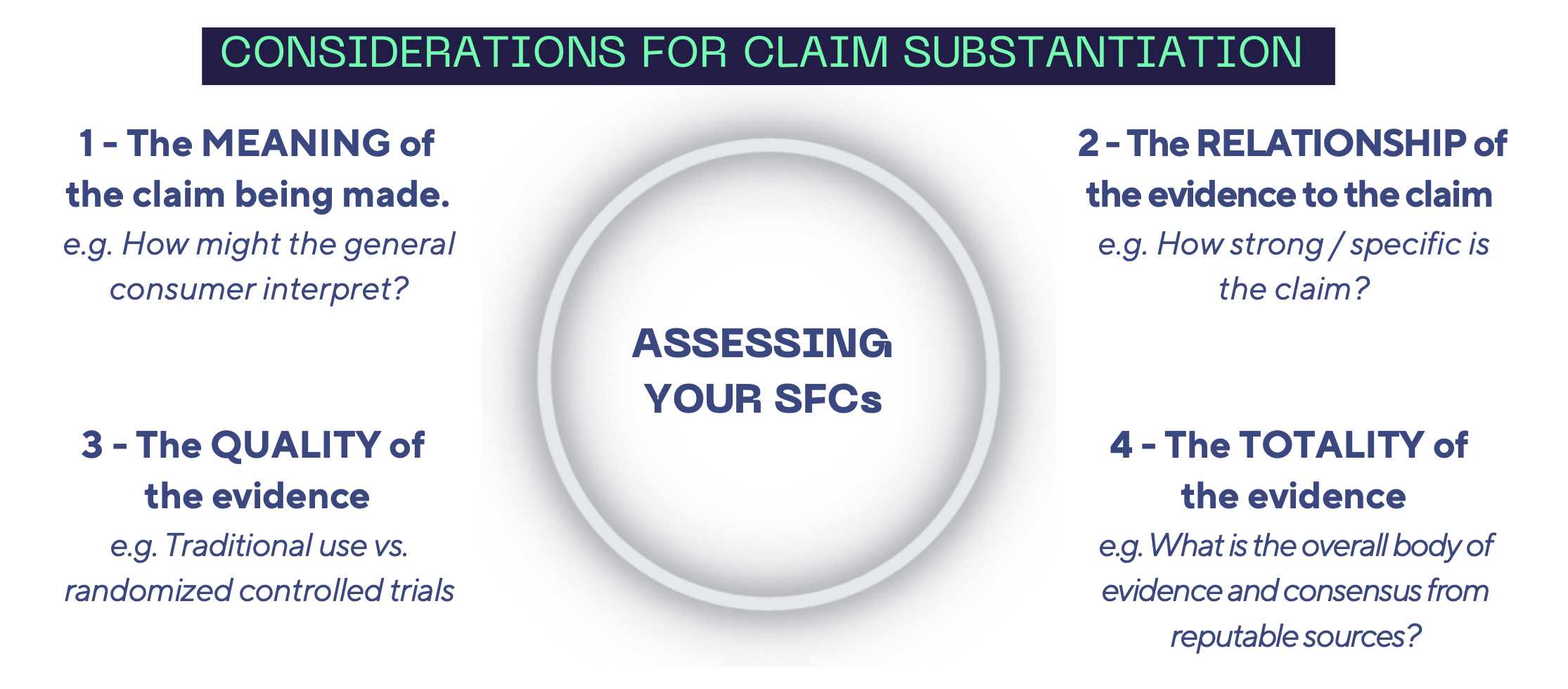 How to substantiate your SFCs?
As mentioned above, not all materials are born equal when it comes to substantiating your SFCs. In general, the stronger and more specific the claim is, the stronger and more specific the evidence on file should be to support the claim.
Randomized, double-blind, controlled clinical trials are considered the gold standard but may not always be required depending on the claim and the totality of evidence.
Animal, in vitro, meta-analyses, and reviews are supportive, but may not be adequate to substantiate a claim by themselves.
Dosing (e.g. serving size, recommended intake of the product), form (e.g. extract, powder, capsules), population (e.g. healthy humans), standardization (e.g. bioactives), frequency (e.g. daily, weekly, with a meal) are items to be considered in the assessment of substantiation since the efficacy of the ingredient used may differ based on these criteria.
The regulation around structure function claims and their substantiation can be a challenge to navigate for you and your company. We know how crucial it is for the success of your products from a communication and marketing standpoint. At RNI Consulting, a team of experienced consultants is ready to provide you with best-in-class regulatory services.
Contact us today for a diagnostic review of your claims in the USA: s.aoudia@rni-consulting.com