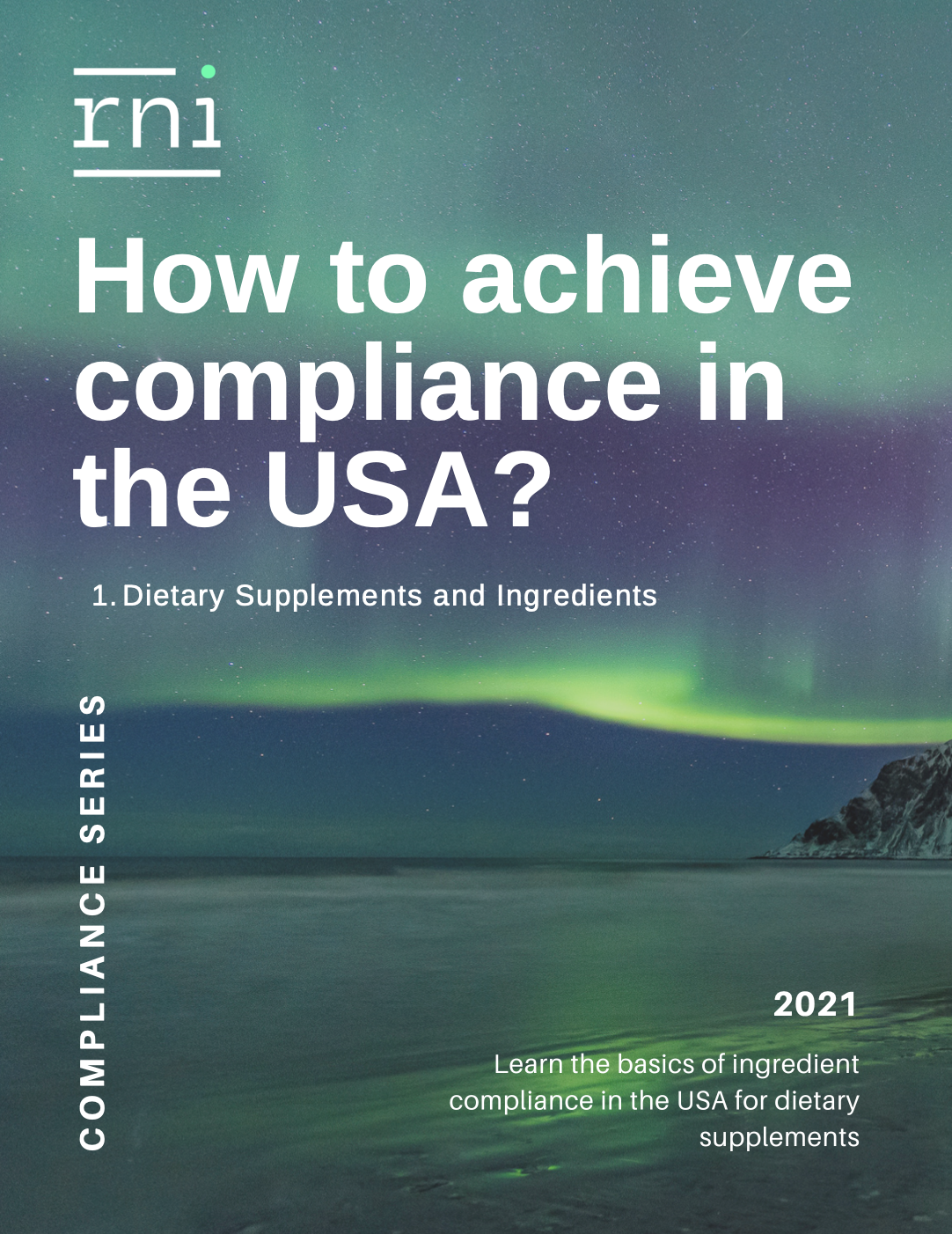 Dietary supplement labels
The regulations
The label of your dietary supplement is the first introduction of your product and is exposed to both consumers and authorities.
Labeling of dietary supplements must comply with regulations outlined in the Code of Federal Regulations (CFR) under 21CFR §101.36, and 21CFR §101.9 in some instances. These regulations include specific requirements for formatting, nutrition labeling, ingredient declarations, order of ingredients, placement, and font sizes for mandatory information. In addition to regulations in 21CFR §101, product labels must also comply with requirements set by the Federal Trade Commission (FTC), California's Proposition 65 regulations, and other requirements under certain circumstances.
Mandatory label elements
Ensuring all mandatory label elements are declared appropriately is crucial for label compliance.
In short summary, there are five main elements required on all dietary supplements:
Statement of identity,
Net quantity of contents,
Nutrition labeling (Supplement Facts),
Ingredients list, and
The name and place of business of the manufacturer, packer, or distributor.
The mandatory label elements have specific placement requirements, such as Country of origin declaration, allergen declaration, Proposition 65 statements, GMO/Bioengineered (BE) statements, and adverse event reporting information.
If a foreign language (other than English) is used anywhere on the label, all mandatory information must be in English and in the foreign language.
Label Review 101
Understanding the Dietary Supplement label
Dietary supplement labels include a mix of mandatory and voluntary information. The mock image below provides an introduction to this information.
Disclaimer: this article is for informational-purpose only and does not construed a compliant label review.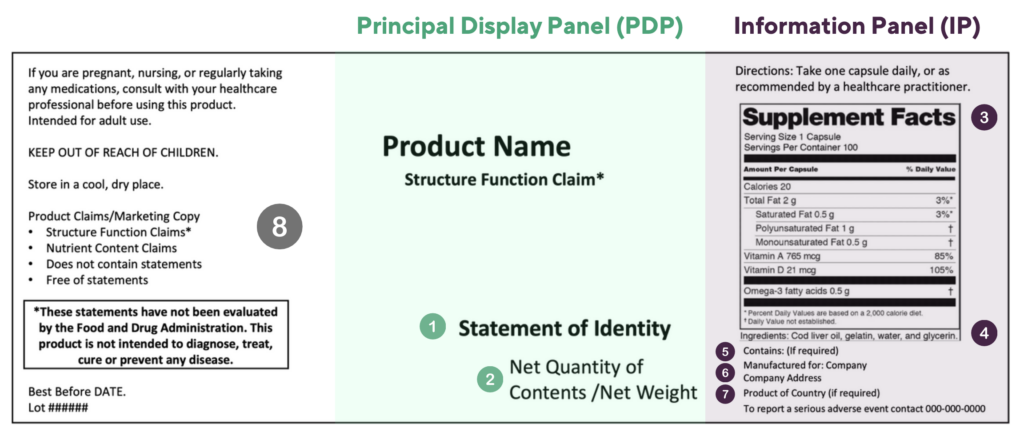 The Principal Display Panel (PDP) is defined as the panel of the box (or bottle) that is most likely to be displayed, presented, shown, or examined under customary conditions of display for retail sale. The PDP must include the following mandatory information:
1. The Statement of Identify, for example Dietary Supplement
2. Net Quantity and Contents (which is the numerical count and product form for tablets / capsules)
The Information Panel (IP) is defined as the panel of the box (or bottle) to the immediate right of the PDP. The IP must include the following mandatory information without any non-mandatory information in between:
3. The Supplement Facts which has specific requirements for the dietary ingredient order and declaration, and has specific formatting and font size requirements depending on the size of the label
4. The Ingredient List, listed using the common name in descending order of predominance by weight
5. Major Food Allergens
6. Contact Information, including Name, Place of business of manufacturer (or packer or distributor)
7. Country of Origin if the product is imported
8. Other information that may be mandatory in some cases, but in most cases do not have specific constraints on the placement include: directions for safe use, product warnings/cautions, the FDA structure function claim disclaimer, company phone number for adverse event reporting, storage instructions, best by date and lot number.
The regulation surrounding dietary supplement labels can quickly become an hassle for companies to navigate. We know how crucial it is for the success of your products from a communication and marketing standpoint. At RNI Consulting, a team of experienced consultants is ready to provide you with best-in-class regulatory services.
Contact us today for a diagnostic review of your labels in the USA: s.aoudia@rni-consulting.com